A VBS Theme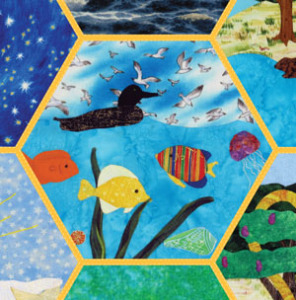 What a dynamic theme to develop in a VBS program. We can feature the days of creation and share with the children out of an unlimited supply of examples of his amazing creation. I have been collecting ideas for a VBS and posting them to my Honeycomb Adventures Press, LLC blog over the past couple of years. While there is still room for improvement, there is a wealth of ideas on the blog to jump-start a VBS planning committee to create their own VBS program around the theme of Genesis 1&2.
Click here to go directly to the VBS ideas I have posted on this blog.
Tips for working out a VBS…
Decide how many days you plan to hold VBS and assign the specific creation days to be taught on each day. Plan to teach from the scriptures. Consult Bible storybooks such as my book The Creation for ways to explain the Biblical account so children will better understand some of the language in the Scriptures. On the blog link I included at the end of the above paragraph you will find a post for each of the days of creation with ideas that can be used for teaching or discussion.
Select music that fits the creation theme. Consider what is available on praise and worship DVDs for use in congregational singing. Also look on YouTube. Here is a wonderful video from YouTube that would be appropriate: Indescribable (You Are Amazing God). I have identified a few others on my blog link above.
Crafts and/or science activities can be developed around the days of creation as well. For example, use balloons to demonstrate that air takes up space, and play a game with balloons. Again, check out the link for several ideas to use each day that can reinforce the concepts you are teaching.
Find or make up games to help the children remember the days of creation. An indoor game could be played using the light switch to emphasize day and night. Children lie on the floor and try to be the first one up when the lights come on. Use your imagination and see how many games you can think of that would reinforce the days of creation. Several are suggested on the web page as well.
I have a friend who is deeply involved in conservation work who challenged me to include activities that teach the importance of taking care of our planet as part of a VBS program on creation. He feels Christians often fall short in the area of taking responsibility for our earth, and I tend to agree. Ideas could be discussed on how to care for the things that were created each day. There might also be one activity that the VBS will follow through on each day in which the children can make a difference. Much might depend on your surroundings. Perhaps it would be appropriate to take a walk and pick up trash on a different street each day or encourage the children to go with their parents for a few minutes each day to pick up trash along the road. Or perhaps the children could make bird feeders or a few community bat houses as a craft activity.
Note: My book, The Creation, could supplement a VBS program on this theme very nicely. Even though I have received great reviews on The Creation which you can read on Amazon.com and on GoodReads. These books are wonderful for teaching the gift of God's creation to us and of his love to all his children. Questions on each page and activities at the end of the book will help teachers make learning easy and teaching fun. And on a special note, we offer discounts for quantity purchases used on mission trips and in VBS programs! You can contact me at queenbjan (at) msn (dot) com for information about discount prices for your special events.
This post is the third in a series of four articles on the theme of the creation. I wrote them hoping to inspire churches who do their own VBS curriculum to consider using some of these ideas in their VBS this summer.
Article 1 – Basic Science in Genesis
Article 2 – Created in God's image
Article 3 – Making a Creation Quilt from Coloring Pages – youth activity
Article 4 – Our Awesome God – a VBS plan (this article)