A Youth Activity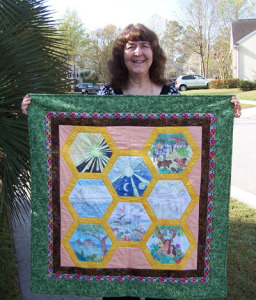 Most children enjoy coloring. They can color the days of creation on fabric and make quilts that can be used on their beds, as lap quilts, or as wall hangings. A youth group could work together to color a wall hanging for the church nursery or a Sunday school classroom.
To make the quilt blocks for a creation quilt you will need…
coloring pages which can be ordered by clicking here
white 100% cotton fabric
freezer paper (to hold the fabric still for coloring)
fine point permanent markers
a tracing box (or glass table or window)
a box of at least 64 CrayolaTM crayons
paper towels
an iron and an ironing board
Cut the blocks and freezer paper into squares to fit the pictures and press them together with a hot iron to make the fabric stiff for tracing and coloring. Then tape the stiffened block over the coloring page on a light box for tracing. If a light box isn't available, a lamp under a glass table or even a sunlit window will suffice. Tracing can be tricky, but most boys love to trace and will be up to the challenge. If the children are really young, an adult may want to do the tracing in advance.
The pictures are then ready for coloring. Do not substitute another brand of crayons as not all crayons will work. If the fabric and freezer paper begin to separate as your more enthusiastic artists color them, simply place the fabric and freezer paper between paper towels and press the pieces together again.
When the pictures are completed, place them between paper towels and press with a hot iron until the color no longer appears on the paper towels. If you wish to brighten up the colors a little more simply repeat with more coloring and press them again. Note that the ironing process also sets the color so that the fabric can be laundered. It won't be as permanent as the colors in purchased fabrics, but it should last through many washings.
Once you are satisfied with the colors and have pressed them enough to remove all of the excess wax and color, you can separate the freezer paper from the fabric and sew the pieces together to make your quilt top. If you used the link above for the coloring pages, you will find more suggestions including ideas for arranging the blocks. A seamstress or quilter should be able to help you finish the project.
This post is the third in a series of four articles on the theme of the creation. I would like to see churches who do their own VBS curriculum consider using some of these ideas in their VBS this summer.
Article 1 – Basic Science in Genesis
Article 2 – Created in God's image
Article 3 – Making a Creation Quilt from Coloring Pages – youth activity (this article)
Article 4 – Our Awesome God – a VBS plan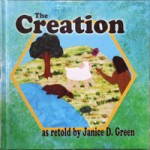 The Creation by Janice D. Green can be purchased at theHoneycomb Adventures Shop on Etsy.com.