With all the blizzards and ice storms popping up all over the US over the past few weeks, spring may seem like a remote possibility, but down deep in our souls, we know it will come again. Maybe sooner than you think.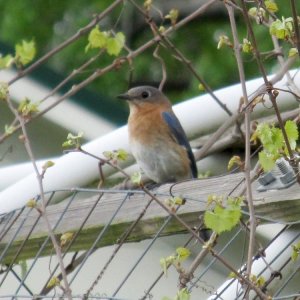 Do you love birds as much as I do? The many varieties, colors, and behavior patterns are so intriguing. Watching them can relax me on any kind of day and any time of year and they offer so many opportunities to teach your children/grandchildren about God's wonderful world.
Bird feeders can be set up any time of the year and are a sure fire way to attract a variety of birds. Bird houses require a little more thought and planning if you wish to use them to attract birds to your yard.
It is important to have a realistic idea of what kind of birds are likely to come to your yard. What part of the country do you live in? Do you have a large manicured lawn or lots of trees and shrubbery? Do you live near water? Bluebirds like wide open spaces with trees close by but not too close. Nuthatches need pine trees. American Goldfinches need thistles nearby for nesting – they winter in South Carolina, but rarely stick around for nesting once spring returns. Don't set out a wood duck nest box if you don't live near water. …and so on…
Once you decide on the kind of birds you can realistically attract to your yard, learn their nesting requirements. Do they need a nest box or do they prefer only a shelf? How big should it be? What size entrance should the nest box have? Should the box be mounted on a tree, the side of a building, or on a post out in the lawn? What other nesting materials might be helpful – yarn, threads, hair, dryer lint, wood chips…? Each bird has its preferences, and the more you know about them, the more likely you are to be successful in getting them to nest where you can observe them.
Spring is very close. I noticed a pair of bluebirds going in and out of a nest box this morning on my way to church. So if you want birds to nest in it this year, time is short. If you don't get it out in time all is not lost. The time it stands outdoors may make it more attractive to the birds next summer as it will seem more natural to their environment as it weathers.
Here are a few websites with excellent information to help you plan for your desired feathered friends.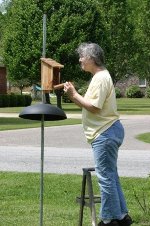 One more way you can plan for a successful summer of birdwatching is to consider plants you may want to grow to attract them. I have planted sunflowers in the south to attract the migrating American Goldfinches. If you hope to see hummingbirds, there are many flowers that are ideal for attracting them. This link on the Cornell website will be helpful as you start planting for birds: http://www.allaboutbirds.org/page.aspx?pid=1146
by Janice D. Green, author of The Creation