Honeycomb Adventures Press, LLC advocates Bible literacy by publishing Bible storybooks for children. Features that set Honeycomb Adventures Books in a class by themselves include:
Books are laid out with mini-stories on each page followed by engaging questions to be shared between parent/teacher and the child. The questions are simple enough to empower the child to find a friend to read to and play teacher.
The easy writing style captures the attention of children of all ages.
The books purpose to encourage faith in the reliability of God's Holy Word.
Coloring pages are available to re-enforce the stories. The pictures may be copied on paper for coloring or on fabric to make a crayon-colored Bible quilt.
Bible storybooks currently available from Honeycomb Adventures Press, LLC: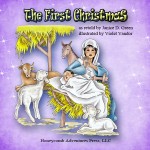 The First Christmas, by Janice D. Green, illustrated by Violet Vandor
For families with children age 4-12 or Christian education
Paperback, 32 pages
$9.95
ISBN 978-0-9836808-2-6
The First Christmas preview (selected pages)
The First Christmas re-tells the account of the birth of Jesus Christ. Adults and children alike will enjoy snuggling up to share these thirteen colorful scenes and the engaging discussion questions as this timeless story unfolds. Even older readers may be surprised to learn something new as they read again of the Messiah's birth.
The Creation, written and illustrated by Janice D. Green
for families with children age 4-12 or Christian education
24 pages, Hardcover
$14.99
ISBN 978-0-9836808-0-2
The Creation preview (selected pages)
The Creation presents the day-by-day Genesis account with delightful word pictures and colorful hand-appliqued quilt illustrations. Questions included on each page encourage dialog between children and their caregivers. Through one-on-one snuggle time, children gain interest in the Bible, as caregivers embrace the opportunity to share their faith.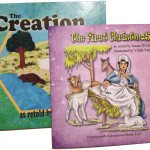 When purchased as a set, get both books for $20.00.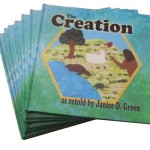 Grandma's Special: 8 copies of The Creation for $30.00
Great for Sunday school teachers and anyone who ministers to children.
 Coloring Pages available for Bible quilts or general use: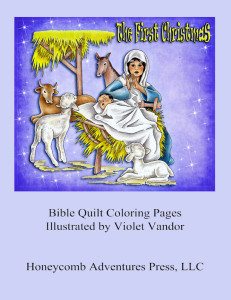 The First Christmas Coloring Pages by artist Violet Vandor, may be used to re-enforce the Christmas story in a classroom setting, but they are specifically designed and proportioned for making crayon-colored quilts, wall hangings, or Christmas tree skirts. Instructions are included for coloring the blocks and for layout suggestions with tips for creating each option. Directions are fairly thorough, though it is expected that purchaser will have some knowledge of quilting.  $1.50 for PDF file.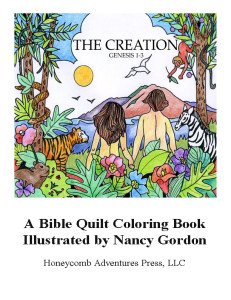 The Creation Coloring Pages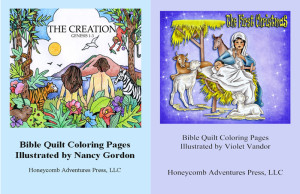 When purchased together, both sets of coloring pages can be purchased for $2.75.
Mail Orders:
Click here for a downloadable form to order books by mail.
Honeycomb Adventures Press book order form