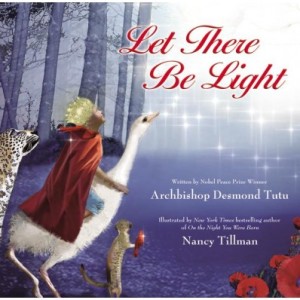 Let There Be Light 
Author: Archbishop Desmond Tutu
Board Book: 280pages
Language: English
ISBN 13: 978-0-310-73396-6
List price: $7.99
Reviewed By: Janice D. Green
Rating: 
This book is just precious! It tells the days of creation in ultra simple language that even the youngest children will be able to follow and identify with. The author ties God's creation in beautifully with his love. The first page starts out with "In the very beginning, God's love bubbled over when there was nothing else – no trees, no birds, no animals, no sky, no sea – only darkness. Out of this love, God spoke. 'Let there be light.'"
Nancy Tillman's lively illustrations in Let there be Light appear to be collages of photographs and paintings. Each page will grab the child's attention with familiar animals and examples from nature and are creatively arranged. Some are quite subtle, as I noticed that the grass in one illustration seemed to morph into a page of music when I looked very closely.
The copy I am reviewing is a board book, 6.5 X 6.5 inches, just the right size for small children to hold, enjoy, and turn the pages over and over. Let There Be Light is also available as a hardcover book.
What do I like best about this book? It bubbles over with joy. Children will love it.
What do I like least? Nothing. The Bible purist in me wants to comment that some of the examples go beyond what the Bible says, but the child-loving realist in me steps up to say – this is for young children. They need to hear it in words and examples that they can relate to.
I give this book five stars out of five.
It can be purchased at any of these links:
Let There Be Light on Amazon.com
Book trailer for Let There Be Light
I received this book free from the publisher through the BookLookBloggers.com book review program, which requires an honest, though not necessarily positive, review. The opinions I have expressed are my own. I am disclosing this in accordance with the Federal Trade Commission's CFR Title 16, Part 255: "Guides Concerning the Use of Endorsements and Testimonials in Advertising."