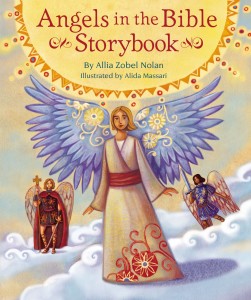 Angels in the Bible Storybook 
Author: Allia Zobel Nolan
Hardcover, 221 pages
Language: English
ISBN 13: 978-0-310-74365-1
List price: $16.99
Reviewed By: Janice D. Green
Rating: 
I enjoyed reading Allia Zobel Nolan's book, Angels in the Bible Storybook. Allia Nolan is an accomplished storyteller with a talent for drawing children into her stories with rich child-like concepts and casual word choices. It is obvious from the start that Allia knows children well.
Allia is equally familiar with her subject matter – angels in the Bible. She re-tells fiften accounts of angel appearances in the Old Testament and fifteen accounts of them appearing in the New Testament. She begins every account with the Scripture reference telling where the event is told in the Bible. I found the references helpful, as a couple of the situations caught me by surprize, though they turned out to be correct.
Many of the stories will be familiar to children who grow up in a Christian environment, though some are less familiar and/or a little difficult to explain to children. Allia Nolan rose to the occasion, however; and brought the stories down to a child's level.
The illustrations are fresh and colorful and will delight children. Some of the angels appear with wings and some do not. Beginning with the introduction, there are several places in the book that give general information about angels and how they appear to people. A few of these facts are that they are mighty in stature, they sometimes look like people, and the good angels have to fight fallen or bad angels.
What I like best about this book: The creative and thorough way it comes together – making it likely to become a favorite with many children and their families.
What I like least: The stories include a lot of dialog that does not appear in the Bible. This is one the the things that makes writing Bible stories for children difficult, as most biblical accounts are quite brief and written for older youth and adult readers. To make stories come alive for children, it helps for the writer to apply child-like imagination and fill in a little extra dialog and or backstory. I encourage parents to challenge their children, when they are old enough to do so, to read the stories in the Bible (the references are already written in the book for you), and sort out what is fully biblical and what has been added.
I give this book 5 out of 5 stars/smileys. Wonderful book!
I received this book free from the publisher in exchange for an honest, though not necessarily positive, review. The opinions I have expressed are my own. I am disclosing this in accordance with the Federal Trade Commission's CFR Title 16, Part 255: "Guides Concerning the Use of Endorsements and Testimonials in Advertising."