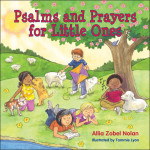 Psalms and Prayers for Little Ones
Author: Allia Zobel Nolan
Publisher: Harvest House Publishers
Picture Book: 32 pages
Language: English
ISBN 13: 978-0-7369-5725-0
List price: $12.99 hardcover
Reviewed By: Janice D. Green
Rating: 
I am thrilled to discover this book of Psalms paraphrased to help young children grasp the meanings of these well-chosen Psalms. Allia demonstrates both her love and understanding of children and what touches their hearts, and her love of the Psalms in God's Word, as she gets to the heart of each and re-writes them for children's ears, eyes, and hearts.
Read her paraphrase of Psalm 133:
Togetherness
Isn't it nice
when brothers and sisters and friends
(even boys and girls who've just met)
play peacefully, giggle, and get along?
When children of God
(that's you and me) share and help each other,
when we are like one, big family,
it's as sweet as the perfume used to anoint a holy man
or as satisfying as the dew that waters the plants on a holy mountain.
Togetherness is a blessing.
Compare her paraphrase to the text of this passage in the Bible by clicking here. Allia Zobel Nolan's book would be valuable to parents for family devotions, as well as to Sunday school teachers and church leaders. The passages include Psalm 8; Psalm 23:1-4; Psalm 139:1-16; Psalm 150; and many more. Each passage is followed by a brief prayer that also connects to the passage.
Following the pages that contain the Psalms is a section called "Digging Deeper" with questions about the content in the Psalms, and the answers to the questions. There is also a brief dictionary of key words used in the Psalm paraphrases to increase the child's understanding.
As a child becomes a better reader and is ready to read directly from the Bible, it would be good to compare these paraphrases with the same passages in her grown-up Bible so she can see the connections as she transitions to reading from the full Bible.
I give this book five 
 s out of a possible five.
Purchase on Amazon.com.
Allia Zobel Nolan's website
I received this book free from the publisher in exchange for an honest, though not necessarily positive, review. The opinions I have expressed are my own. I am disclosing this in accordance with the Federal Trade Commission's CFR Title 16, Part 255: "Guides Concerning the Use of Endorsements and Testimonials in Advertising."