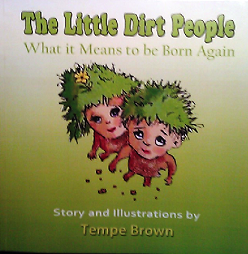 The Little Dirt People: What it Means to be Born Again 
Author: Tempe Brown
Paperback: 47 pages
Publisher: Bush Publishing (2012)
Language: English
ISBN: 978-1-4507-3904-7
Price: $14.95
Ages: 4-99 (this reviewer's opinion)
Reviewed By: Janice D. Green
Rating: 
The Little Dirt People: What it Means to be Born Again by Tempe Brown amazes me with its child-like simplicity while it presents such sound Biblical concepts.
I was charmed from the first page with Tempe Brown's way of explaining fellowship as dogs hanging out with dogs, cats hanging out with cats, and people hanging out with people. Key words like fellowship and Spirit are woven throughout the story. God reached down to his dirt people Adam and Eve by breathing his Spirit into them so he, a Spirit, could fellowship with them. But when Adam and Eve sinned, that Spirit died in them and God could no longer fellowship with them.
Because God missed fellowship with sinful people he sent his very own Son to rescue us, to be the Savior of the world, and to make it possible for us to have his Spirit and his fellowship once again.
The pictures and the story capture the message as well as the imagination of a child of any age from 4 to 99. There is a prayer near the back of the book to help a child pray for salvation.
The Biblical concepts are numbered throughout the book keying them to the Endnotes page with the Scripture passages that support them.
What do I like best about this book? It is so thorough yet so child-like simple. It brings to my mind the verse in which Jesus tells the people that unless they change and become like little children they will never enter the Kingdom of Heaven. (Matthew 18:3) I believe this book would be helpful to teens and adults as well as children for explaining the message of salvation.
What do I dislike about this book? There is nothing to dislike.
The Little Dirt People: What it Means to be Born Again can be purchased atAmazon.com or through Tempe Brown's web page www.tempebrown.com.
I purchased a copy of this book from the author following her presentation at a luncheon I attended. This review contains my honest opinions, which I have not been compensated for in any way.
Reviewed by Janice D. Green, author of The Creation and The First Christmas