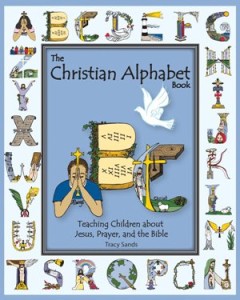 Title: The Christian Alphabet Book

Author/Illustrator: Tracy Sands
ISBN:  978-0-9857928-0-0
USD:  $19.95 Hardcover
Rating:   
The Christian Alphabet Book: Teaching Children about Jesus, Prayer, and the Bible, by Tracy Sands is a fascinating collection of basic concepts and facts about Christianity. This book, which was awarded the Christian Small Publisher Book of the Year award, should prove useful to teachers, youth workers, and parents who are serious about reaching their children with the Christian faith.
In harmony with the concept of the Holy Spirit as our teacher, "Love, the dove from above" sheds light on each of the concepts from A to Z. The pages are filled with information, discussion questions, and activities to teach, entertain, and keep the dialog going between caregiver and child. Each page spread also concludes with a simple prayer.
The artsy alphabet letters have many symbols embedded in them. A set of pages at the back of the book revisits the alphabet letter by letter to provide a quick reference to explain and/or clarify what the symbols mean.
There is an audio CD in the back of the book with "The Bible Alphabet Song" on it. This fun song will be useful to reinforce the concepts in the book and to help the children grow in their understanding of the Christian faith.
What I like about the book: I like the wealth of concepts that are presented on a child's level and the intriguing art work that shapes the letters.
What I dislike: This isn't exactly a dislike, but a caution. This book will prove more useful in a teaching setting than as a stand-alone book for a child, unless the child is highly motivated to read it to the end. But even this can be a plus, as children and parents need to spend more time in dialog and a book of this type will inspire this to happen.
I rate this book five points out of a possible five.
You can order The Christian Alphabet Book from Tracy Sands website or find it on Amazon.com.
I received this book free from the publisher through the BookCrash.com book review program, which requires an honest, though not necessarily positive, review. The opinions I have expressed are my own. I am disclosing this in accordance with the Federal Trade Commission's CFR Title 16, Part 255: "Guides Concerning the Use of Endorsements and Testimonials in Advertising."