Grandparenting Through Obstacles: Overcoming Family Challenges to Reach Your Chradchildren For Christ
Written by ReneéGray-Wilburn and Dianne E. Butts
Pix-N-Pens Publishing
302 pages
ISBN 978-1-938092-17-6
SRP: $15.99
Reviewed by Janice D. Green
Rating: 
Grandparenting through Obstacles by Reneé Gray-Wilburn and Dianne E. Butts is a dynamic resource for grandparents who are concerned about helping their grandchildren find a meaningful relationship with Jesus Christ. Through 20 real-life stories written by grandparents in a wide variety of situations, the authors show how twenty wise grandparents found ways to influence their grandchildren's lives in a positive way. In addition to the engaging stories, each chapter includes "Grandparents from the Bible," "Points to Ponder," "Steps to Take," "Scriptures to Study," and "One Way to Pray." Within these headings, chapter by chapter, grandparents will find a plethora of ideas for reaching out to their grandchildren through a wide variety of circumstances.
The chapters are divided into four sections:
Part 1: The Challenge of Parents Not Walking with God
Part 2: The Challenge of Long Distance Relationships
Part 3: The Challenge of Non-Traditional Families
Part 4: The Challenge of Partnering with Parents
I was impressed with the diversity of situations represented in this book and with the depth of the grandparents' wisdom and faith as they addressed the obstacles they had to deal with. Even though no list of 20 situations will be able to cover every situation a grandparent may face, I believe that anyone who has a heart for reaching their grandchildren (or other children – relatives or non-relatives) for Christ will find helpful suggestions between the covers of this book.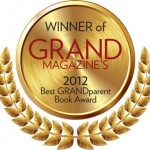 Grandparenting through Obstacles won the GRAND Magazine's 2012 Best GRANDparents Book Award.
What I like about this book: Everything… especially the wealth of ideas and resources represented.
What I disliked about this book: Nothing. The only thing that puzzled me was the connection between the "Grandparents in the Bible" section within each chapter and the current grandparent story in each chapter. Even though they didn't necessarily match up, I realized as I read through the chapters that they emphasized the importance of grandparents' roles as seen in the lineage of Christ Jesus. For this reason, even though I was puzzled at first, I recognized its significance in the book and feel it added an unexpected dimension to the whole.
The authors of Grandparenting through Obstacles maintain an ongoing blog with additional resources for grandparents. The book, Grandparenting through Obstacles, can be purchased as a paperback copy or as an ebook on Amazon.com
Although I was given a free ebook copy of Grandparenting through Obstacles in return for a review, I quickly realized that I would prefer to read it in hardcopy, and since it was on a topic that is dear to my heart, I did not mind paying for it. This book is one of several I have reviewed through the BookCrash Review Program. I was free to give either a positive or negative review. The opinions expressed are my own.