The Creation – Inventory Reduction Sale
8 copies of The Creation for only $30.00* plus shipping
16 copies of The Creation for only $50.00* plus shipping
* add 7% sales tax for addresses in South Carolina
Genesis account of the event of creation in hardcover copy
Colorful hand appliqued quilt illustrations
Kid-friendly language does not sacrifice story
Emphasizes that life has meaning and purpose for today's youth
Discussion questions on each page – great for family or church setting
Additional activities in back of book for family or church group
Many wonderful reviews!

Check them out here.

More great reviews on

Amazon.com
Special Inventory Reduction Sale Click here for downloadable form to order sets of The Creation.
Honeycomb Adventures Press, LLC is a small publishing company less than two years old that exists on a shoestring budget. Its first publication, The Creation, was printed in a large quantity using off-set printing. With H.A.P.'s limited budget for marketing, most of these books are still in boxes tying up cash needed for additional publications. For this reason these books are being offered at near give-away prices. (If I gave them away I would have to pay the sales tax on them as well, which is not an option as I can't pay to give them away.)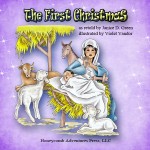 The First Christmas continues to be available for sale, but not at the reduced rate. This is a print-on-demand book as all H.A.P. books will be in the forseeable future. The First Christmas sells for $9.95 plus shipping. Again, SC residents must also pay SC sales tax on this book.
Use this form to order copies of either The First Christmas or The Creation if you are not ordering at least one set of eight books of The Creation.