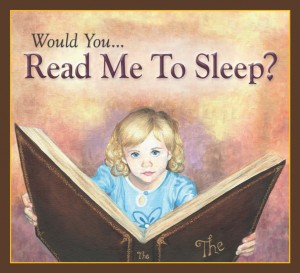 Would You… Read Me To Sleep?, by George E. Edenfield and illustrated by Alyson A. Harris, is a lovely book about the lifelong relationship between a father and daughter and of their love for Bible reading at bedtime. The book is beautifully written and illustrated. It has a grandfatherly feel to it and is flooded with lots of love.
I appreciate… am crazy about… the theme of the story, the love of reading the Bible at bedtime – which is at the heart of my own writing ministry.
The problem I have with this book is that the language and the length of the story may get lost on children of today. But before I dismiss the book too quickly, I want to add that children will sit and listen to more than we often give them credit for. I believe the real problem is that most parents haven't the patience to read to children, and rather than getting into the pictures and little side-trips with the children while reading with them they want to keep reading and turning pages until they reach "the end." With the right combination of parent and child (or grandparent and child) this book just might work very well.
There is a lot of emphasis on "the secret of The Seven Golden Keys," a concept I'm not familiar with. Children and their young parents need more information on this if the book is going to be meaningful to them.
I like the  concept and the book is beautiful, but I fear the effort may be lost on the children. Their parents…? …now that might be worth looking into if it will inspire in them a desire to read Bible stories at bedtime.
Would You… Read Me To Sleep? available on Amazon.com
ISBN: 978-0-9842818-0-0
Full color, unpaged
I received this book free from the publisher through the BookCrash.com book review program, which requires an honest, though not necessarily positive, review. The opinions I have expressed are my own. I am disclosing this in accordance with the Federal Trade Commission's CFR Title 16, Part 255: "Guides Concerning the Use of Endorsements and Testimonials in Advertising."