Readers will remember my last guest post by Crystal Bowman. I couldn't resist sharing this poem of hers as well.
A GRANDMOTHER'S PRAYER

Lord, I come to you today
and lift my prayer to you.
Please be with my grandkids,
in everything they do.
Help their little eyes to see
only what is good.
Give them mouths that speak the truth
and say the words they should.
Give them ears to listen well;
please help them to obey.
Give them feet that follow you;
don't let them go astray.
Help their minds to understand
the things that come from you.
Give them wisdom through your Word
to know what's right and true.
Surround them with your angels,
and keep them in your care.
Help them, Lord, to turn to you
and talk to you in prayer.
As they grow and as they learn,
please teach them right from wrong.
And when they face temptation,
Lord, help them to be strong.
Teach them how to love and care
the way you want them to.
Help them to experience
the joy of serving you.
Lord, please bless these little ones
with blessings from above.
Give them faith and give them hope,
and fill their hearts with love. Amen.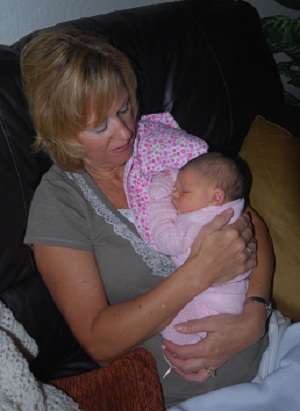 From: My Grandma and Me-rhyming devotions for you and your grandchild, by Crystal Bowman. Tyndale House Publishers