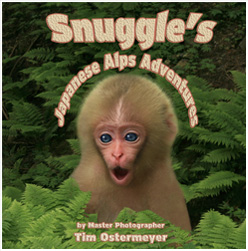 Title: Snuggle's Japanese Alps Adventures
Author: Tim Ostermeyer
ISBN: 978-0-9794228-7-4
Age: 4-12  /  SRP:  $18.95
The photography in Snuggles' Japanese Alps Adventures is awesome. You feel like you know these Japanese snow monkeys personally by the time you have finished reading the book. The story is about the challenge of traveling from the cooler summer habitat through the Japanese Alps to the hot springs where they can stay warm through the bitter cold winter months. Throughout the book Tim Ostermeyer offers Bible scriptures and appropriate life lessons for children.
What I like about the book: The pictures will draw young and old into the book. They are awesome. The life lessons are real for children and even older readers will gain from them as well as the inspirational scriptures.
What I dislike about the book: Nothing. On the first read I worried that children may not follow the theme of the story very well, but on the second read through I didn't get that feeling. The children will love the pictures and will want to hear the story again and again. They will pick up on different parts of the story each time through. This is genius storytelling.
You can order Snuggles' Japanese Alps Adventures and other books by Tim Ostermeyer on the Barnes & Nobles website or on his author website.
I received this book free from the publisher through the BookCrash.com book review program, which requires an honest, though not necessarily positive, review. The opinions I have expressed are my own. I am disclosing this in accordance with the Federal Trade Commission's CFR Title 16, Part 255: "Guides Concerning the Use of Endorsements and Testimonials in Advertising."